Join us to
Grow, Learn, Network
The Above Board Chamber of Florida Presents
"Naples: The Need for a Succession Plan in Business!"
The Above Board Chamber of FL is bringing together a panel of business leaders who will share their insights on the importance of succession planning for your business today and in the future! These panelists will show companies how to be ready at all times and the importance of keeping things in order! You do not want to miss this meeting!
DATE & TIME
November 8, 2021
11:30 a.m. – 1:00 p.m.
LOCATION
Hilton Naples
5111 Tamiami Trail N
Naples, FL 34103
COST
$33 members
$35 non-members
early bird prices
or directly here:
http://events.r20.constantcontact.com/register/regform?llr=e6s4z9fab&oeidk=a07eiozzy8m2b819ce2
Meet our Emcee
Vicki Thomas Tracy, Chief Operating Officer at Gulf Coast International Properties Vicky has multiple degrees from Central Michigan and the University of Michigan. Having raised millions of dollars for "her town", she is often called upon when a "get it done" person and cheerleader or a chairperson for an event is called for. Vicki 's name is always at the top of the list when a leader is needed. When calls come for a senior in need of care cheerleader she goes into overdrive as her passion for Senior's remain her priority. She is the daughter of Darlene Thomas, single mother of 5 children, and married to her devoted husband Steve. You can always find Vicki at the helm or in a leadership role in the community making a difference in someone's life, be the younger residents or our older one! Vicki serves Executive Counsel of the Above Board Chamber of Florida.
Meet our Media Panelists
Theo Etzel grew up in Coral Gables, Florida and attended Stetson University. Theo is the former CEO and now Partner and Director of Conditioned Air Company, a $60 million, regional organization in the residential and light commercial HVAC markets. Conditioned Air had a successful recapitalization with a private equity firm in 2015. Theo was inducted into the Junior Achievement Hall of Fame in Collier County. Theo is the author of the leadership book, Invest Your Heartbeats Wisely, released in April of 2016. The book focuses on practical, philosophical, and principled leadership concepts for business and life. Theo serves on the Executive Counsel of the Above Board Chamber of Florida.
Karen Mosteller, CPA, CHBC Karen is the Medical and Business Consulting Partner with Markham Norton Mosteller Wright, & Company, P.A. She helps businesses navigate fast-paced changes in their respective industries and provides strategic business solutions to a wide variety of organizations. Karen offers expertise and practical advice in the various stages of consulting, from strategic planning to implementation of marketing as well as helping to build financial and operational plans. She assists with restructures, mergers, and acquisitions and understands how a successful organization operates in all phases, from start-up to company growth. Karen is a member of the Above Board Chamber of Florida.
Keith A. Veres, CPA, CGMA, CEPA In extending his role beyond his responsibilities as an HBK CPAs & Consultants (HBK) accounting Principal, Keith Veres exemplifies HBK's transition from accounting firm to holistic financial services provider. As director of HBK's emerging Corporate Finance business along with his status as an investment banking representative of a third party investment banking broker dealer, he helps HBK clients looking to raise capital, acquire businesses or sell their business through a coordinated succession planning process. Keith is a member of the Above Board Chamber of Florida.
Joseph De Sena, CFP, MBA, Managing Director of Siena Wealth Advisory Group joined Ameriprise in November 1994 and has been a member of the Chairman's Advisory Council, top 100 advisors at the firm, since 1999. In 2020, Joe was named Best-in-State Wealth Advisor by Forbes. Joe trademarked a simplified financial planning process titled "The Great 8 Formula". His focus is helping our clients create wealth, protect their wealth, and preserve a legacy. Joseph is a member of the Above Board Chamber of Florida.
This is an in-person event. The cost of the in-person event is $33 for members and $35 for non-members with early bird pricing.
Our focus will be on subjects that will help you and your business. If you need help in any area, please let us know so that we can get you the proper information that will help you. You can email the chamber at Jeanne@aboveboardchamber.com, or you may call me at 239-910-7426. Special thank you to CONRIC PR and Marketing for helping us market this event.
Jeanne Sweeney, CEO/Founder
Above Board Chamber of Florida
239-910-7426
www.aboveboardchamber.com
DATE & TIME
November 8, 2021
11:30 a.m. – 1:00 p.m.
LOCATION
Hilton Naples
5111 Tamiami Trail N
Naples, FL 34103
COST
$33 members
$35 non-members
early bird prices
or directly here:
http://events.r20.constantcontact.com/register/regform?llr=e6s4z9fab&oeidk=a07eiozzy8m2b819ce2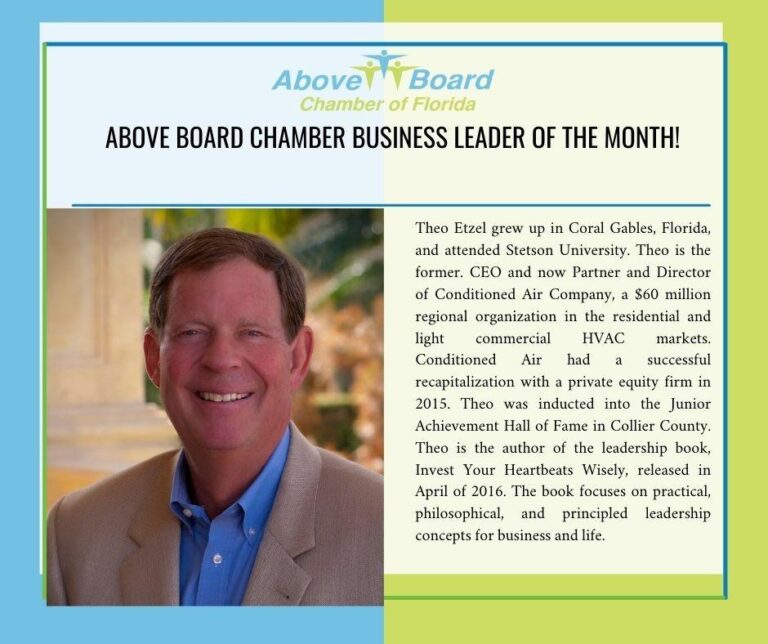 ---
« Newer Entries
Older Entries »