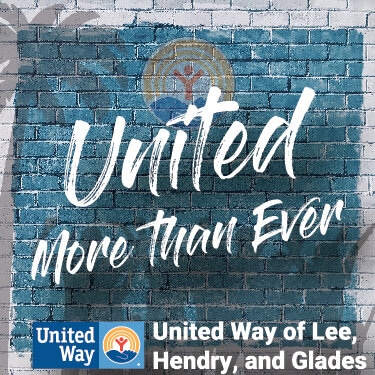 United Way of Lee, Hendry, and Glades has rescheduled its annual 2022-2023 Campaign Kick Off to December 14, 2022.  The event will be held at Barbara B. Mann Performing Arts Hall, located on the campus of Florida SouthWestern State College. Networking and light breakfast items will be available at 8:30 a.m. The program will start at 9:00 a.m.
Tickets are on sale for $15, available through the Barbara B. Mann website: bbmannpah.com events/detail/united-way-kickoff-campaign.
The kickoff event is the start of United Way's annual fundraising effort. United Way team members, partner agencies, and volunteers will unite to raise awareness and excitement in the community through the testimonials of donors, advocates, and recipients.  Pacesetter results will be announced at this time.  United Way Pacesetters are companies that run their campaigns early in order to set the pace for the rest of the community.  The event also allows attendees to network with hundreds of United Way supporters.
United Way Campaign Co-Chairs Sally Jackson and Matt Humphreys will lead the Kickoff to the goal of $11,186,558.
The new theme of this campaign is United More Than Ever. A testament to how the community has come together after the devastating Hurricane Ian on September 28.
We hope to see you there!