The Above Board Chamber of Florida invites you to join us on Thursday, February 11th, from 12 PM to 1 PM to learn "How to Budget for all your social medial in 2021 and determine which ones are best for your Business!"
or directly here: https://us02web.zoom.us/webinar/register/WN_MC8zn7Z3QquUzov-sPbM6A
Our panelists will give our members and guests an understanding of the dynamics and strategies for dealing with our evolving social media, cost, platforms, and how to reach their preferred audience.
This meeting is being emceed by Jeanne Sweeney CEO/Founder Above Board Chamber of Florida
Webinar assistance by Javier Fuller, Vice President of Web Design at CONRIC pr + marketing.
Thank You to Our Sponsor
Trish Leonard, IOM, founded TLC Marketing & Creative Services, a Florida certified woman-owned business in January 2009. TLC is known for its high-level marketing strategies, branding, successful public relations campaigns, and award-winning events. Over the course of her professional career, TLC has won numerous awards and accolades including the 2018 and 2016 Small Business Awards from both the Bonita Springs Area Chamber of Commerce and the Estero Chamber of Commerce. Trish was the recipient of the 2016 Naples Daily News and New-Press Bonita Springs Citizen of the Year, 2011 Zonta Woman of the Year, and is a Paul Harris Fellow. Currently, Trish serves on several boards including President of the Zonta Club of Bonita Springs-Estero, President of the Bonita Springs Downtown Alliance, and is a founding member of the Bonita Springs Short Film Festival amongst others. Trish is a longtime member of the Above Board Chamber of Florida
For more information about TLC visit http://www.tlcmarketing-events.com or trish@trishleonard.com
Meet Our Panelists
Connie Ramos-Williams
is the President and Chief Marketing Officer at CONRIC pr + marketing, an award-winning creative agency headquartered in Southwest Florida. Over the years, she has become known as the "go-to" person for creative and innovative business marketing ideas and solutions that lead to measurable success. Business and community leaders often call on her for high-level strategic planning and crisis communications. She leads CONRIC and her trusted team of experienced professionals in branding, public relations, digital marketing, advertising, and website development strategies. She is the founder of Southwest Florida Parent & Child Magazine, past Niche Advertising Director for The News-Press and also serves as publisher of the Lee County Bar Association Res Gestae magazine.
Robert Wetzel
is the Director of Marketing and Communications for TLC Marketing and Creative Services. TLC is a Florida-Certified Woman-Owned Business and is celebrating its 11th year of serving local and national clients. Robert is a graduate of Florida Gulf Coast University and has experience developing marketing and public relations strategies for multiple business sectors including, corporate businesses, small to mid-size businesses, and non-profits. The TLC team specializes in helping businesses develop and execute a plan that is tailored to them and that sets them up to achieve their desired goals.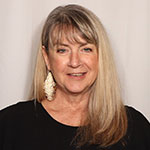 Theresa Ayers
is a Business Consultant of the Small Business Development Center at FGCU, where she specialize in Web Presence and Digital Strategy Development. She helps her clients create a comprehensive online presence to bring their businesses to a targeted audience. Through the use of social media she instructs her clients on how best to cultivate a robust customer focused Internet presence. Relationships are some of the most essential and most profitable assets a business can have. Through connecting, engaging, and educating their communities her clients are able to strengthen, personalize, and enhance business relationships.
The cost of this Zoom program will be just $10 for members and non-members. We are doing our meetings on Zoom for the next few months. Our focus will be on subjects that will help you during these trying times. Once we know it is safe for us all to meet in public, we will go back to our regular meeting places. If you need help in any area, please let us know so that we can get you the proper information that will help you. You can email the chamber at Jeanne@aboveboardchamber.com, or you may call me at 239-910-7426. Special thank you to CONRIC PR and Marketing for helping us set up this up coming ZOOM program. Price is just $10 for members and non-members.
or directly here: https://us02web.zoom.us/webinar/register/WN_MC8zn7Z3QquUzov-sPbM6A
We may all need to be apart from each other at this time, but helping each other will be the focus of our chamber. Apart we can learn to be better, so when we are back together, we will be stronger! All those who register and paid their $10 for our program will be sent a copy or this webinar after the program is complete.
Jeanne Sweeney, CEO/Founder
Above Board Chamber of Florida
239-910-7426
www.aboveboardchamber.com